Apple has literally made jaws dropped last June 11 at its Wordwide Developers Conference (WWDC) with its announcements of mobile payments, music sales, new apps, updated iOS, and the much-talked about new Mac Pro.
Image source: http://msnbcmedia1.msn.com
Design-wise, the new Mac Pro has a 6.6" x 9.9" cylindrical stretched aluminum case that is 1/8 the volume of the current Mac Pro and is entirely different from a usual workstation with fans dubbing it as Darth Vader's computer. The most advanced update since 2006, the motherboard and thermal core elements – CPU, memory, and graphics --are arranged triangularly inside the tube case. Another shocking difference from this new design is that it has only one fan to cool everything making fans expect a quiet machine.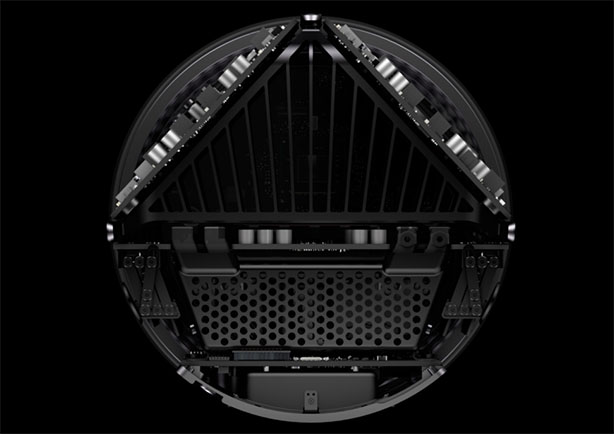 Image Source: http://images.bit-tech.net/
Performance-wise, the new Mac Pro will have up to 12-core Xeon CPUs and 1866MHz DDR-3 RAM which is said to result to 2x the CPU performance of the old models. It will also come with a PCle-based flash drive that can deliver 1.25GBps reads and 1GBps writes. It will include the updated Thunderbolt 2 bus with external expansion, and two workstation-class ATI FirePro GPUs.
Not to forget the Mac's signature handle to lug the unit around, the cylindrical machine's version can make the unit spin to reveal the ports at the back of the unit. Found at the back will be the Gigabit Ethernet, HDMI out, audio, 4 USB3 jacks, and 6 Thunderbolt 2 ports.
Apple vaguely dropped hints that the two-years-in-the-making Mac Pro will go on sale later this year.